Hot Tags
Download Baldi's Basics in Education and Learning for PC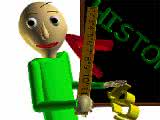 Download Baldi's Basics in Education and Learning for PC game!
Rating:

System Requirements

OS:

Windows / MacOS

RAM:

2 GB

Size:

44.7 MB

Price:

$10

Release Date:

September 28, 2018
Reviews
Hey man I love this game because it is one of the best horror games I've played.
By Joseph
What I want to go out to my school and see if baldi is ok
By By Mia Moore
I play this game on my iphone and I love it (:
By Jacob
It is the best game on earth!
By Dyllan
I love baldi because I'm know the really hard anser it is in granny baldi version
By Jamie
bald is not stupid you are
By Anita
Hi my name is chloe and I like to dance like twirling.
By Coco
It is my favourite game in the world by baldi
By By Mohamed
Hot Games