Hot Tags
Download Baldi's Basics in Education and Learning for PC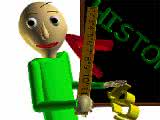 Download Baldi's Basics in Education and Learning for PC game!
Rating:

System Requirements

OS:

Windows / MacOS

RAM:

2 GB

Size:

44.7 MB

Price:

$10

Release Date:

September 28, 2018
Reviews
FUN!! AND COOL GAME
By Tero (in Finland)
I love this game but it is so fun ❤️
By Rose
I love this game it's the best game ever!!!!
By Victoria Grace Ruiz
I want to play the game
By James
Good game I love ❤️ And I think James and Gabe needs to make a YouTube channel
By Dorion Bolton
Hey man I love this game because it is one of the best horror games I've played.
By Joseph
What I want to go out to my school and see if baldi is ok
By By Mia Moore
I play this game on my iphone and I love it (:
By Jacob
Hot Games